April – June 2020: in this period of lockdown, 121 Pro Musicians have been involved in a massive undertaking, although not able to work as usual everyone has given up an amazing amount of time to ultimately raise money for a charity who desperately need extra money at the moment…
Please go to the website link here if you want a copy of this amazing track while supporting a good cause.
Proud to have been involved. 🙂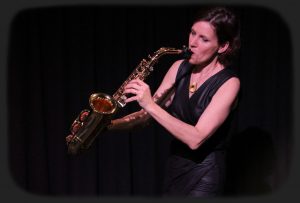 Meet Isabel, based in Winchester. She takes any opportunity to play the saxophone! She plays soprano, alto, tenor, and baritone saxophone depending on the demand.
She plays in several bands:
Sarisbury Green Big Band playing a mix of Blues, Swing, Jazz, Rock, Soul, Latin and Dixieland,
The Clive New Big Band with monthly live performances is very popular among a dedicated group of followers who just love listening and dancing,
Seif and the Sound a popular covers band for weddings, private parties, corporate events, festivals, functions and clubs,
Second Wind Saxophone Quartet, an experienced saxophone quartet that has been established for over 10 years, performing at (private) events.
She further deps in several other local bands. So, if you need a dep saxophonist for your band, please get in touch.
But if you are looking for that smooth sax sound for your private or fundraising event, she also offers solo performances accompanied by high-quality backings to create that extra atmosphere. She'll bring her own (wireless) equipment. You can find a selection of her repertoire here.
P.S. You might catch her busking in Winchester High Street, for some fund-raising event or just for fun. This is a good opportunity to get a feel of her sound…. Come and say hi! 😉